1 to 3 years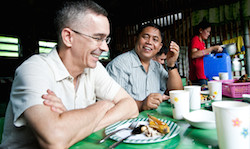 Are you ready to take the next step in missions with a one, two, or three year project? Some people feel that they are ready to serve long term, but may not know definitely what place God is calling them to work. A year or more serving as an OMF Associate may be the best way to explore deeply what God has for you in the country you are considering.

OMF invests a lot of time in training people during their first few years serving in the field. This includes customized programs for studying language, culture, and worldview. Many fields have regular training times throughout the first few years to cover curriculum introducing the ministry needs and approaches for the focus peoples. Participating in this training is a great way to spend the first several years of service as you try to understand what is most needed in the situations you may serve in. Many people see a need for later graduate studies, but choose to serve in Asia for a year or two first as this informs and focuses the later time of study.

Of course, this training time is not simply academic. Most people in language study programs are actively building relationships and sharing the gospel (even over language barriers) during this time of preparation.

There are also some OMF Associate roles that do not require as much training time at the beginning and can more quickly move into service in a full time role.

We are looking for people who: 

- Have a desire to see individuals and communities transformed by the power of the gospel

- Are servant-hearted, flexible and have skills related to evangelism, discipleship, and church planting
- Are committed to work with others to build up the church for effective service

- Are willing to learn new skills, languages and persevere with a long-term view

If you sense God leading you to serve East Asia, look below to find out more about the opportunities.