Medical Work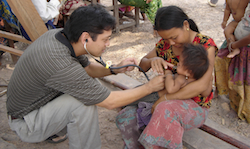 OMF International believes we are called to care for the unreached in East Asia for God's glory. Healthcare work allows us to enter these unreached communities, love the people in tangible ways, develop trusting relationships and ultimately point them to the unconditional love of Christ. Whether it's the least developed countries or the urban cities in East Asia, the vast healthcare needs represent opportunities and open doors for building relationships and offering healing in Christ. We care for the unreached among the poor, the rich, the disabled, the marginalized and those with special needs.


Today, we have nearly 100 colleagues involved in medical ministry in East Asia. They come from 17 countries around the world to serve in 12 countries, among 35 people groups in over 40 sites across East Asia. They serve as doctors, nurses, dentists, therapists, counselors and specialists in other medical fields.

We continue to seek called and qualified candidates from among Christian medical workers and apprentices in training and identify the key medical service opportunities throughout East Asia for them. We desire physicians, surgeons, dentists, nurses, therapists, nutritionists, researchers, psychologists and other healthcare workers with the heart to serve in medical and dental schools, government and Christian hospitals, Non-Government Organizations, and also in OMF International as medical advisers to our missionaries. They could be teaching and training students at a local medical college, working as practitioners in medical facilities, using their expertise to reach unreached communities, or providing medical advice and review for our missionaries in their home country or the field. Responsibilities will depend on the specific professional role. There may also be opportunities to be involved in gospel teaching and discipleship ministries according to one's calling and gifting.

Through all this, our goal is to see the people of East Asia come to faith in Christ, to edify believers, to show what it means to be a Christian professional and to glorify God with our lives.

We seek workers who have:
- A deep and growing love for God.
- A desire to serve unreached peoples of East Asia with their healthcare expertise.
- Ability to share your faith and disciple others in your daily life.
- Willingness to learn and speak the local language and culture where/when needed.
- Willingness to adapt to new living conditions 
- Up-to-date, professional qualifications in your area of service.
- Humility and servant-hearted attitude to learn from others.
- Christian maturity and high spiritual standards are essential, as is a strong commitment to cross-cultural ministry.

We are open to all healthcare workers. If you have the desire to serve East Asia, but is unsure how your skills could be used for God's kingdom, contact us to explore opportunities.