Creation Care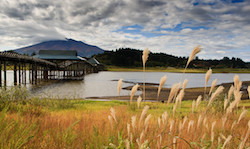 At OMF International, we believe that the church has a responsibility to care for God's creation as an expression of his kingdom; and that we cannot truly love our neighbors without caring for the land and ecology on which they (and we) depend. We need to care for both people and places.

The world is experiencing increasingly severe storms, floods and droughts, and we are seeing widespread degradation of the oceans, rivers, soils, forests and atmosphere. These phenomena have led to food and water shortages, destruction of homes and means of livelihood, involuntary migration, disease and death, affecting many of the peoples of East Asia. With growing population pressures, many have to live in marginal lands that are vulnerable to these changes, and to natural disasters such as earthquakes and volcanic eruptions. At the same time, the earth's resources are being consumed at unsustainable levels.

In response to the biblical mandate to care for creation, and to the growing ecological crisis, OMF International is committed to urgent and prophetic ecological responsibility.  We see the place of creation care in the following:

    •    As part of being disciples, we should practice Creation Care
Our actions should be consistent with our words. We want to be good stewards of the resources entrusted to us.
    •    As part of our disciple-making, we should teach Creation Care
Creation care is included in some of our training programs. We hope to take part in the exploration of creation care themes in churches, theological seminaries, mission agencies and student ministry.
    •    As part of mission strategy, we should consider Creation Care
The need for creation care ministry as an integral part of our mission will vary between different contexts. Examples include:
    •    Ecological surveys and response strategies;
    •    Sustainable forestry, agriculture, animal husbandry, fisheries;
    •    Water and waste management: collection, storage, recycling, filtration, sanitation;
    •    Flood control: restoring mangroves etc;
    •    Alternative technology;
    •    Conservation and restoration of eco-systems, and eco-tourism;
    •    Creation care education in subjects such as land-use, agro-climatology, alternative technology and theology.

We seek workers who have:
    •    A deep love for God and a heart to love and serve people through creation care ministry;
    •    At least a BS in environmental science or a related field;
    •    At least 5 years experience in environmental science is preferred;
    •    An understanding of the spiritual battles involved in mission;
    •    Cross-cultural experience;   
    •    Fluency in an East Asian language or a willingness to devote the first few years to language and culture study;
    •    Openness to a commitment of at least 3 years (more if language study is needed);
    •    Willingness to live a simple lifestyle similar to that of others in the area;
    •    A flexible, humble attitude, and the spirit of a team player who values the input of others and is willing to submit to others.


If you have the qualifications and would like to explore opportunities to serve God through creation care ministry, please inquire on one of the opportunities below. Alternatively, you can also contact our International Facilitator for Creation Care at int.creationcare@omfmail.com for more information. We look forward to hearing from you!